Mircona slot and groove milling tools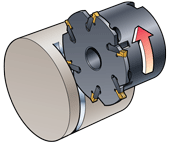 A complete range of slot and groove milling cutters are offered by Mircona to cover most machining operations performed by these tools.
The Mircona slot milling cutter is used for deep grooving or cut-off.
Due to the design of the patented clamping system, consisting of a sprung loaded integral top clamp, the clamping force on the insert increases proportionally with the cutting force.
The clamping is based on a reverse angle on the insert seat, which effectively "dove tails" the insert into position and completely eliminates the risk of the insert being thrown centrifugally out of the milling cutter body.
Mircona groove milling cutter bodies are provided with a screw/clamp-locking of the insert and is intended for groove milling on a flat surface or for external or internal circular groove milling.
Groove end-milling cutters are single or multi-toothed and is provided with a combination of cylindrical and Weldon shanks.
View the Mircona catalogue »